Network Topology
PCKlub network topology is based on the star model.
The Technical University in Košice is connected to the SANET network by two lines, each with a speed of 1 GB / s. One line is directed only to multicasts and the other to other traffic. From there, a separate optical route with a current speed of 1 GB / s is brought to each dormitory in the university. (multimod for boarding houses in the campus campus and a single camp for boarding schools, which are further). The optical route to the server room at Jedlíkova 9 is a single-track optical route with a speed of 10 GB / s. The following figure may serve to better understand.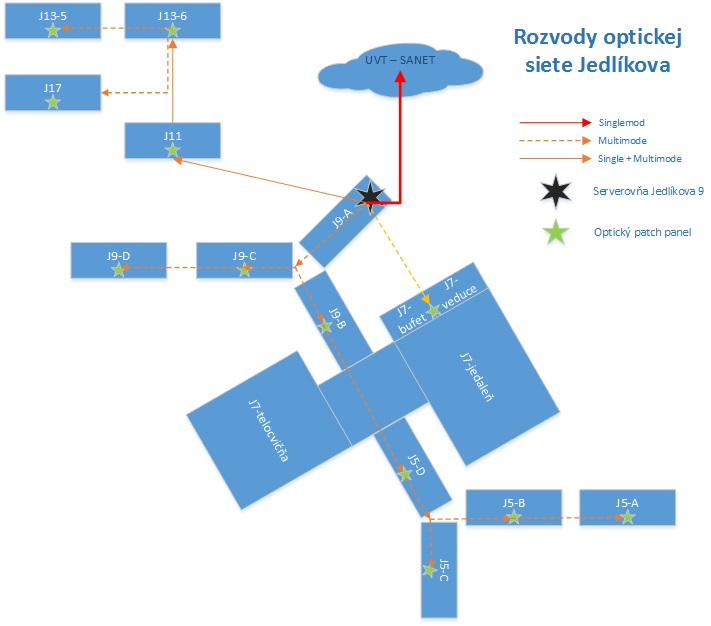 The network at the dormitories of Bozena Nemcová, Ferka Urbanka and Rampova continues to branch only to end users.
However, the optical route to the Jedlíkova 9 dormitory ends with another server room, where Internet connection is provided by the Jedlikova 5, 9, 11, 13, 17 dormitories as well as catering facilities, employees and, last but not least, the infovek project on Popradská Street.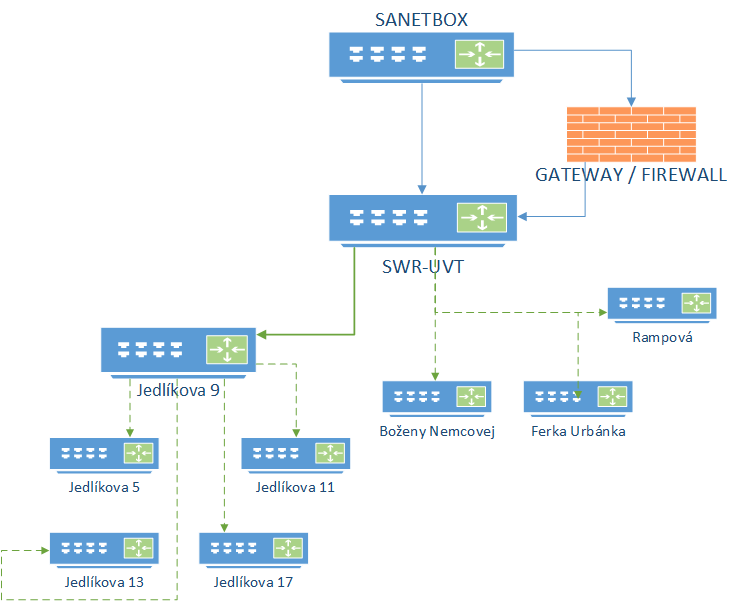 All network components used by PCKlub in dormitories as well as in the ICS server room are Cisco brands, which in itself speak of a high level of networking. It is precisely because of the fact that the dormitories get rid of older and less reliable devices and bought the equipment from the mentioned company, we can achieve great reliability and high availability.
Servers
Servers that provide core services such as a central information system, web pages and network device management are located at ICS TUKE. These are the HP DL 180 G6 servers, which together form a computing cluster, which is important for performance-intensive applications.
There are disc arrays from HP, IBM and DELL brands at server room in J9 which are mostly used for local services